Why Do You Need A Pregnancy Pillow?
Why Do You Need A Pregnancy Pillow?
Back pain during pregnancy is incredibly common, and research has shown that it can be exacerbated by rolling in bed and sleeping incorrectly during pregnancy.It is recommend sleeping on your left side, supported by a good maternity pillow.

Pregnancy is also a prime time for women to develop sciatica, which can cause intense pain or numbness in the hips, legs, and lower back. A pregnancy pillow can help alleviate this issue and provide some relief during the nighttime hours when pain may be more noticeable and distracting.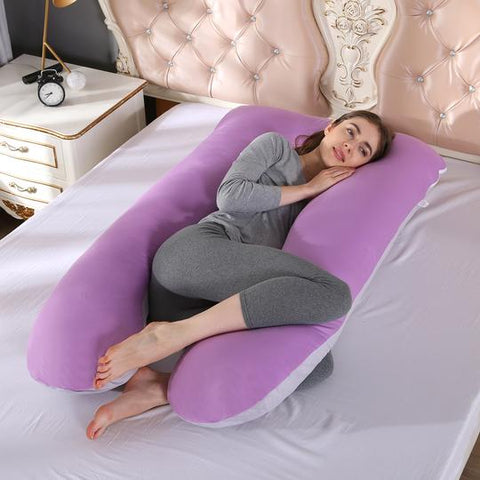 Some argue that if you need support during your sleep in pregnancy, why not simply use regular pillows? Why do you need a specialty pillow at all? The problem with using regular sleeping pillows during pregnancy is that they are designed to support the neck and head during sleep, rather than the pregnant belly, back, and hips. A maternity pillow is designed with the pregnant body in mind and is better suited to fit those needs. It is countered to fit against your body and to provide support strategically.
Also, because the larger pillows are one piece, if you need support in multiple places, you are less likely to need to readjust the pillow the way you would normal sleeping pillows. In addition, the expense of buying five or six regular pillows far outstretches the expense of a single pregnancy pillow.
 It surrounds the pregnant mother, supporting her belly, legs, hips, head, and back, and helping her to maintain the side-lying position that is so important in late pregnancy. This U Shaped Body Pregnancy Pillow is especially good if you are prone to rolling onto your back.
Ihrtrade Pregnancy Pillow, Maternity Pillow, U Shaped Body Pillow Pregnancy
---