Why You Need The Tactical Dog Operation Harness
Tactical dog vests are most often used on service or police dogs. However, some dog owners simply want to take their dog along on an adventure into the woods. A tactical dog vest will serve you better than a regular harness because it allows your dog to carry small bags while staying safe and secure.
IHRtrade Tactical Harness Vest provides superior durability,optimum comfort, and powerful functionality,so that you can go out in the world with your loyal companion both safely and enjoyably.Specially designed by putting 2 individual pieces together,this high-quality harness features Escape-Proof and can be adjusted freely to your dog's body.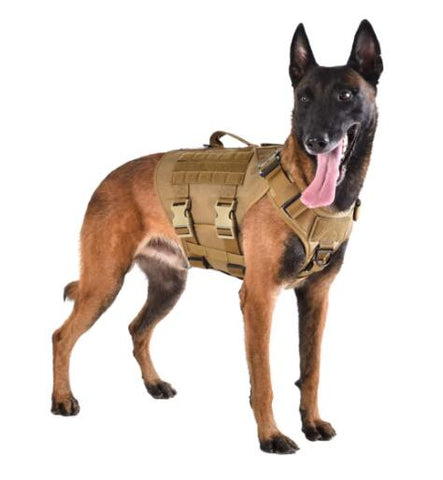 Made of durable material and sturdy metal hardware, plus multiple additional features, this practical harness combines Quality and Versatility together, making it perfect equipment for service/working use, outdoor training, or adventure hiking.
Dog safety harness features 2 Metal Leash Attachment Points for safer dog walks - One Front Clip for No-Pull control or dog training, and one Back Clip for casual walking or jogging. Reinforced top handle for additional control and easy lifting aid in both general and treacherous situations.
Whether your treasured canine is a service dog or domestic pet, he or she deserves a trusted harness, no matter it's for working, training, exercising, or recreational purposes. Our tactical vest is great for:

Service Dogs – Help carry water bottles, medications, and ID tags
Police/Military/Working dogs – Give protection, maximum control, and extra storage for equipment
Hunting Dogs – For carrying supplies and great visibility while out in the wilderness
Outdoor Companion Dogs – Exercise and play with comfort and safety.
---