WINDOW PROJECTOR - Projecting Holiday Movies To Windows And Gardens
The Window Magic Projector will transform any home into a Halloween (or Christmas) spectacle for everyone to enjoy!There's 6 Halloween;(crazed chainsaw maniac, scary scarecrows, eerie eyeballs, dancing skeletons, creepy graveyard, or zombie attack).  Spread holiday cheer playing the 6 Christmas videos; (shushing Santa, chirping winter cardinals, puppies in presents, fun-filled gingerbread house, holiday train, and Santa spreading magic).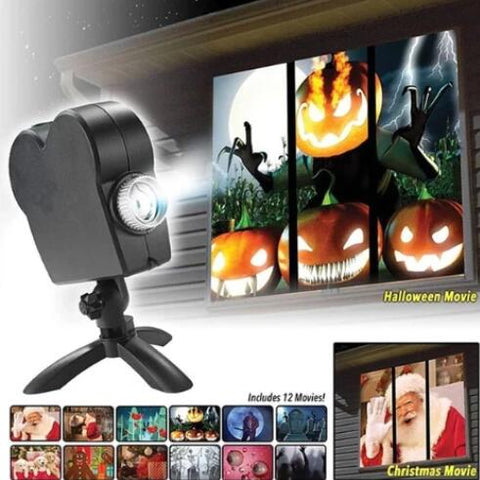 About the FUNCTIONS:
FULL COLOR MOVIES: Full color window movie projector plays 16-second movies in your windows – perfect Christmas and Halloween decorations 
12 MOVIES: Create your own virtual winter wonderland playing a Christmas movie or a spectacular spooky home playing a Halloween movie – has 12 built-in movies: 6 Christmas and 6 Halloween

PROJECTION SCREEN: 4-foot by 6-foot white translucent rear projection screen to play your outdoor movie projector Christmas and Halloween movies

HOUSE DECORATION: The projector with stand projects on any window horizontally or vertically, making it the perfect tool to decorate your home effortlessly this holiday season
INCLUDED: Includes Window Wonderland projector, projection screen, 360° pivoting stand, and AC adapter.
It is easy to set up the Window Magic Projector,  only needs 3 steps as following:
Just place the projector inside your home near any unblocked window.
Place rear projection screen inside the window.
Select a movie and project the show outside! 
Seasonal Scenes:
All Through the House, Part 1 & 2, from

 

Night Before Christmas

Deck the Halls, from

 

Santa's Workshop

Party Time, from

 

Celebrations Party Time

Festive Fireworks, from

 

Celebrations Party Time

Eggstravaganza!, from

 

Hoppy Easter

My Valentine, from

 

My Valentine
---