With Orthopedic Leg And Knee Pillow To Get Deep sleep
Knee Pillow is the world's first Orthopedic memory foam leg cushion that provides side sleepers comfort to properly align your spine,stabilize your hips and cushion your knees while you sleep to ease pain in your back,hips,legs,and knees.It gives your body.its natural posture back by contributing to the perfect functioning of your vital organs.
Another factor the rest triangle helps you with is by relieving pressure from head to toe by reducing inflammation on the central nervous system.It helps alleviate pain points in back, hips & knees for all night comfort.contributes to the decompression of the vertebrae of the spine,including the sacral bone.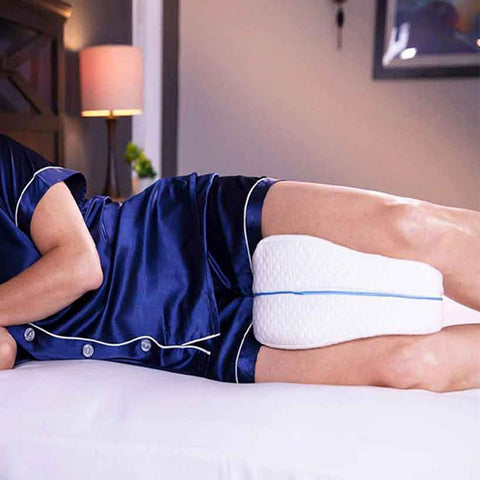 The Orthopedic Leg And Knee Pillow helps in hip deviation issues and recovery from hip surgery, thus relieving the pressure on it when the knee pillow is placed between the legs.knee pillow has a rounded edge design and a curved design. Perfect for your leg shape and provides reliable support. At the same time, the stylish and cute new shape makes it completely different from other knee pillows.100% high-density memory foam with a slow rebound feature for lasting comfort and reduced leg pressure. The soft velvet pillow case can be used comfortably even for people who are sensitive to the skin. The concealed zipper that removes and cleans the pillowcase.
Our knee pad is designed to help relieve pain but for some people, all symptoms cannot be completely eliminated. Always consult your doctor before using this product for specific health conditions. Because it is a new product, there may be a slight smell when received. Simply place it in a ventilated place.
---