With Superior Quality Assures Error-Free Signal Transfer
With Ihrtrade USB Double-sided Blind-Mating Right Angle Fast Charging Cable,new Fast Charge technology, your battery can go from zero to up to 50% in about 30 minutes, so you can spend less time connected to an outlet and more time connecting with people you care about. The USB-C Fast Charge wall charger will charge USB-C devices without the Fast Charging feature as well, with up to a 2 Amp charging rate.
Right Angle Design,both the USB B to USB A connector at 90-Degree right angle. More convenient to play mobile games, text and watch video movies on a horizontal screen.Fast and easy plug to connect your devices to your car.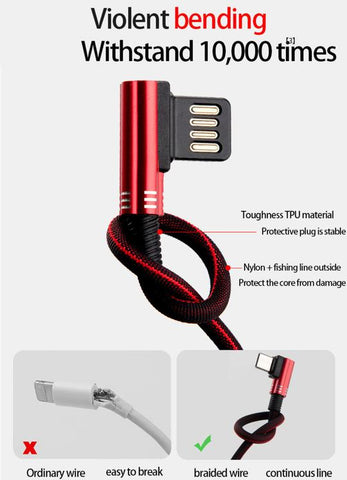 About the USB Double-sided Fast Charging Cable
High quality Material. Wrapped with Copper, TPE and silica tube
Easy to use, from neatly coiled to fully extended just like that! A great space saver!
Rated for fast charging and data transfer. The cable supports 5v, 9v, and 12v power adapters. Quick charge 2.0. Max current is 3A.
Compatible with nearly every phone.
Excellent for use in your car, no more messy cords all over your car, it winds and unwinds easily so that it can be hidden away.
No more dust or debris in your charging port, the magnetic tips stay in your device making it impossible for anything to get into it.
Braided Fabric Cord - Premium two-tone USB to USB connector composed with high-grade aluminium alloy case, triple shielded ( AL-Foil/Mylar Shielding+Twisted Pair Shielding+ 100% Tin-Copper Braiding Shielding), with Black/Red/Blue color cotton jacket.
Standard USB charger charges smart phone devices,tablet devices,wireless headphones,media player,digital camera,hard drive,e-reader,external battery, handheld game console or other device with micro connector.
---