You and Your Dog Need This Tactical Dog Harness
IHRtrade Military Dog Harness with Handle,designed for Your Dog,and You. Many dogs tend to pull a lot when they are excited to feel the nature or to meet new furry friends. Our harness features No-Pull Design so that you can have better control of your dog by attaching the leash to the Front Clip. Every time your dog pulls, he/she got turned around instead of continuing forward and pulling on the leash. Soon your dog will learn not to pull.
The soft and breathable padding will give your dog a snug fit around the whole body, so your dog will feel secured and comfortable while wearing it, making the walk even more enjoyable. The materials that we used to craft our harness are all of premium quality, so your dog will wear it like a champ. Day and night, with Rabbitgoo Safety Dog Vest Harness, your outdoor adventure with your furry friend becomes pure fun.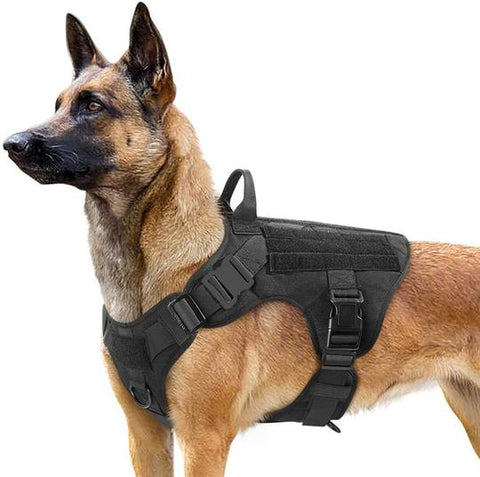 Medium to Large Dogs, such as Golden Retriever, Huskie,Labrador, Alaska, German Shepherd, Akita, etc. Please measure the size carefully before purchasing this present for your puppy. Make your puppy stand out with this Classic Black Harness! 
Our non-pulling dog harness is specially designed with 2 metal leash rings for safer dog walks. Use the chest attachment clip to stop your dog from pulling on walks, perfect for dog training or dogs who tend to pull. The back one is great for casual walks, jogging, hiking, etc.It  is easy to put on and take off with its 2 fast-release buckles. Slide the harness over your dog's head, buckle it up, adjust the straps, and here you go! Grab the top handle for additional control. Lightweight and easy to clean.
Your dog will enjoy the daily walk in this comfort dog harness! Made of durable nylon oxford and padded with soft cushion to protect your dog's skin. Breathable air mesh keeps your dog cool during outdoor activities. Super bright reflective strips ensure a safe walk both day and night 
---