You will LOVE TO WEAR Neck Conditioning
Imagine that you have a Device that helps you with your neck pain as you sit comfortably on the couch and read a book, or while you work at the computer, or while watching TV. Imagine how all the Neck muscles relax, and the pain feeling begins to disappear as if by magic.
Yes! This device even exists and it really works! We call it Neck Pain Relief Cervical Traction because is very easy to use,it doesn't require any assembly and is completely portable. You can use it at home or you can easily take it anywhere.
Neck Traction Comforter Device is a new way to relief your neck pain by gently stretching those painful neck muscles and allows you to treat yourself on the spot. Unlike the traditional neck traction products, our air neck traction is portable and easy to use.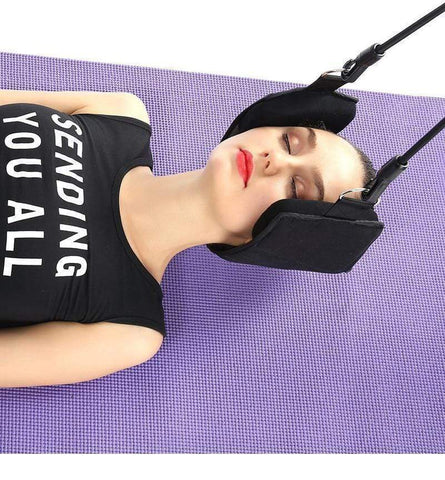 This easily adjustable home cervical neck traction therapy device with its effortless pumping and adjustable incline and neck cushions, is truly a breakthrough in home traction equipment. 
Although neck traction is considered to be a conservative form of treatment, visits to a distant physical therapy department are often impractical and inconvenient. The economic and practical disadvantages of prolonged treatment by this means would be overcome to a considerable extent if neck traction could be performed at home. Therefore, the use of neck traction at home can be an effective method to save costs associated with doctor and/or physical therapy visits along with providing the convenience of not having to leave the home for treatment.

The object of Neck Pain Relief Cervical Traction is to assist the patient in these pain relieving maneuvers. If it is strong and is applied in a vertical direction, traction will likely be successful. It is essential to bear in mind that neck traction is used to treat a symptom and not a disease. To relieve the user of pain with no attempt to cure disc disease or osteoarthritis. This actual mechanism by which traction relieves cervical spine related pain is not precisely known, however, studies indicate a widening of the disc space while relieving pressure from sensitive nerves, relaxing tight muscles and increasing blood flow to help with neck pain and pain radiating into the shoulder,arm or hands.
---