Your Gardon Needs Garden Stake Lights During Summer
Summer is coming,people like more and more to stay in the outside like yard and gardon,how to make the outdoor more charming and enjoy the time better?iit is time to get the Lily Solar Garden Stake Lights.
The lily flower light gives off subtle light not so bright but a soft noticeable glow, making your yard pop and bringing spring summer cheer to outdoor space - The solar mini LED bulbs hidden inside the bubs light up the gorgeous flowers automatically, shining and changing colors simultaneously (from original PURPLE or WHITE to blue, green, red, etc.), generating a colorful fairy atmosphere to your yard, making your yard special and outstanding. 
These realistic colored lilies add vibrant colors and charisma to your yard during the day when the solar is off and charging - Featuring a natural lily shape with adjustable stems and colorful fabric petals - Remember to hide / marry the solar flowers into your other greenery so they don't look fake during the daylight hours. They will boost the look of floral arrangement, enhancing vibrant spring summer ambience.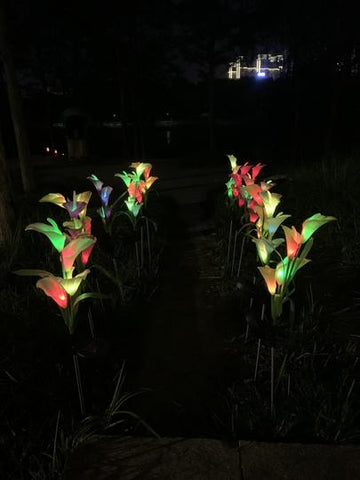 The Lily Solar Garden Stake Lights is powered & light sensored - No external electricity required - Charges with a solar panel, using 1 AA rechargeable NIMH battery (included) - The light sensor acts as your timer - Built-in photo sensor automatically turns the light on at dusk and turns the light off at dawn - An Eco-friendly and low-maintenance way to light up your yard - Explore interesting daily and holiday decor options for your yard. 
The stems, leaves and lily flower are higher, bigger, more realistic and vivid, not fade easily since quality materials, Good choice for decorating the garden, trees, flowers, trails, fence, walkway, courtyard, patios etc., etc. suitable for outdoor and indoor. 
Solar LED flood lights has a beautiful petal design, imitating the real lily shaped, illuminating your backyard, pathway, Lawn, Patio under the seven-color changing light
 You can bend stems and leaves into different angels and styles, and design beautiful gardens to make you happier. Flowers and stems are made of high-quality materials and have been proven to withstand severe weather. 
---