Ihrtrade Bracelet Data Charging Cable (6 colors)
Regular price

$19.98 USD

Sale price

$9.99 USD

Unit price

per
It's time to ditch the old cables!
You need to charge or transfer pictures between your smart-phone and computer.

But you forgot your cable.

Luckily your wearing a bracelet that converts to a

 

charging/data cable

 

in case of immediate need. No more need to panic!
It's not just a bracelet, it doubles as a charging cable.
This is a charge-and-sync cable that is hidden within a braided leather bracelet designed with a purpose to set your hands free from carrying any excess cords, which 

function as a charge-and-sync wearable cable. 

Nobody would notice what it really is, it can be your bracelet daily.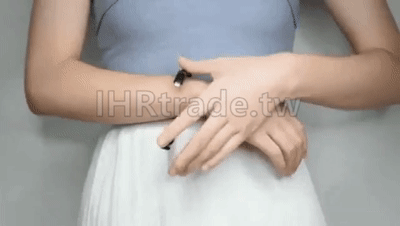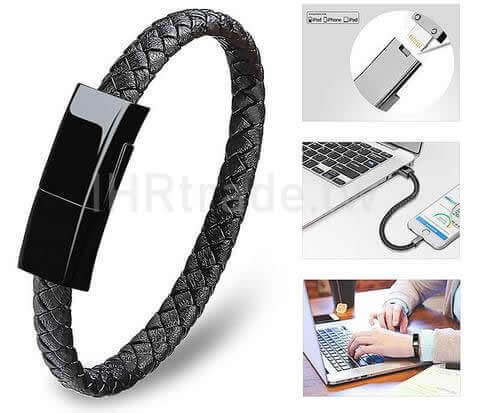 Product Details
The USB bracelet is made of high-quality smooth leather.
Two-group electric core and zinc alloy.
The PU braided leather is waterproof, soft, light-weight and supple.

This bracelet has

 

good waterproof performance & far durable.

Service life 2-3 times as long as normal data cable,

 

not easy to fade and fall off.

Fashionable

Braided Leather Bracelet Design
Fashion

Accustomed to the weight of the metal bracelet and frost crack, choose a leather bracelet is a hipster essential choice.
Hyperbolic Ergonomic Design: Each bracelet charger using hypoid ergonomics design,very BEAUTIFUL and COMFORTABLE to wear, also have prefect seamless metal joint devise which make sure it TIGHT and SAFE ENOUGH when you wearing.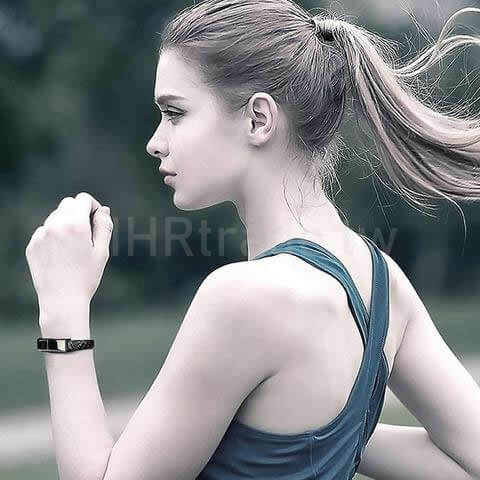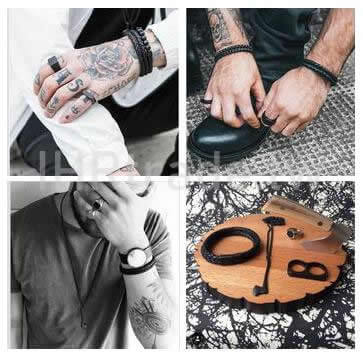 Portable

3-IN-1 -- Creative USB Charging Cable+Transmission Line + Classic Leather Bracelet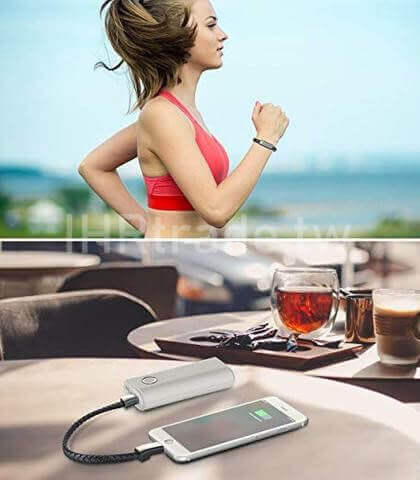 Fine Workmanship, Soft

It won't chafe your skin, anytime and anywhere calls, fashionable and beautiful, compact and convenient.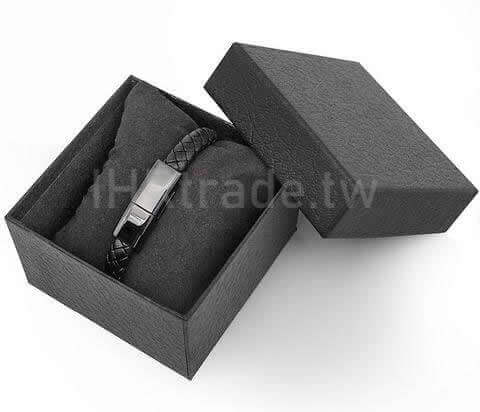 Unique Curved Plug Design
Curved plug design, close to the thumb, a touch to know before and after, even at night can distinguish before and after,Easily plug or unplug.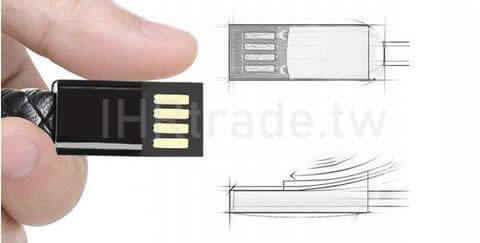 Very easy to use and bring on EVERY OCCASIONS, PURE CONVENIENT, SIMPLE and FUN for EVERYONE!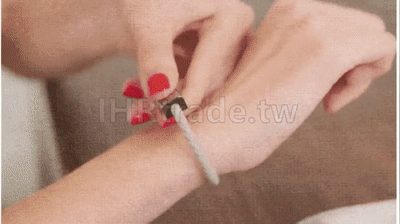 Fast Transmission Speed

Standard USB line, good power supply, stable signal, fast transmission speed.
The charging core is made of high quality tin-plated oxygen-free copper conductor. Gold-plated connectors provide excellent electrical conductivity, making high-speed data transfer fast and accurate.Provides ultra-fast data transfer rates of up to 480Mbps.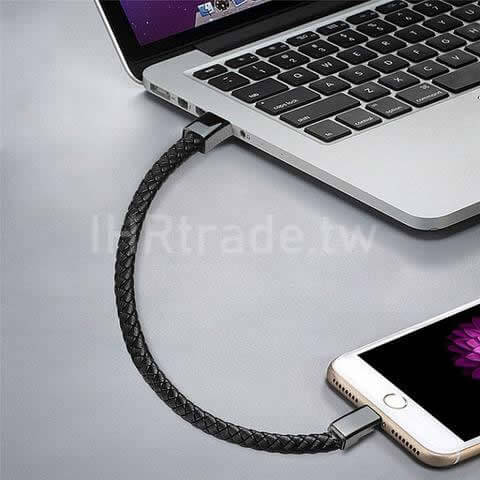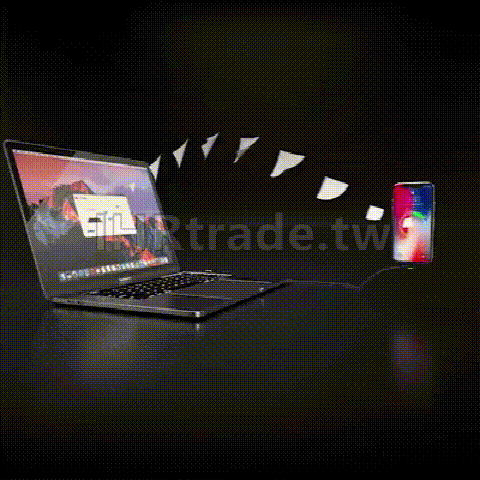 Strong Compatibility

High - speed sync and charger on your lighting device.This bracelet lighting cable is compatible with all apple devices, android devices, type-c devices, etc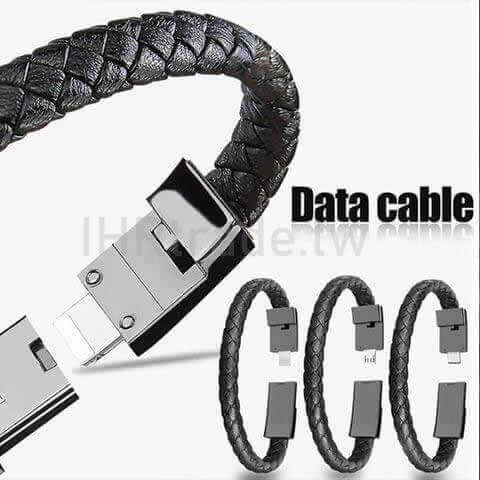 This Leather Bracelet USB Charging Cable for iPhone and Android is a great way to have a charging cable for your for iPhone, or any other smartphone with a USB or ever a USB type C without the hassle of carrying a long cable. Nowadays there are charging stations everywhere like malls, amusement parks, etc. PU leather is very durable and will last a long time. It can withstand scratches and scrapes that would mar genuine leather. It is not prone to crack or peel like leather. This is why this bracelet is much more durable and long lasting.
Almost everywhere you go now there are USB charging stations. All you need is a cord! Airports, Malls, Restaruants. Now you will have a cord whereever you go. No more missing important text messages or phone calls because your phone is dead.
Packet Include
1 X Ihrtrade Bracelet Data Charging Cable
Share
About Payment

To make sure the safety of your purchase from ihrtrade.tw, we now only support one payment method: PayPal

PayPal provides an easy and quick way to send and request money online. You can transfer money (abroad) to family, friends, online shops, and auction sites.

You can click PayPal button after viewing your items on your shopping cart page. Then you will leave ihrtrade.tw and enter PayPal's website. You can sign in to your Paypal account, or you can create a new one if you haven't got one. According to the on-screen instructions, you can use the Paypal as you want. Usually, PayPal e-check will take 3-5 business days to be confirmed by Paypal.

The reasons why we suggest you use Paypal:

Payment is traceable. Using your PayPal account you can trace the status of your payment.

When you make the payment for your order, you need not use your credit card online (you can transfer directly from your bank account). When you use your credit card through Paypal, ihrtrade.tw will not take your credit card number, which will minimize the risk of unauthorized use. 

No paypal account
If you only have the credit card,you can also pay throgh paypal.please check the following details:

Step 1:
Choose paypal as payment and enter it- choose the billing address-complete order (as the below photo shows)

 

Step 2:
Choose "Pay with Credit or Debit Card".(as the photo shows).

Step 3:
Improve personal information (as photo shows).

It is easy.If you have any more question,please contact with our customer service.
E-mail: support@ihrtrade.tw
Shipping Info

IHRtrade Shipping, Returns and Exchanges Policy

Thank you for shopping at IHRtrade.

To serve you better, we will begin to process your order immediately you click the Submit Order Button.

1. Our Products

a) Although we have made every effort to display the colors accurately, the images of the Products on our Website are for illustrative purposes only.
b) We cannot guarantee that your computer's display of the colors accurately reflects the color of the Products, your Products may vary slightly from those images.

2. Processing Guidelines

a) All Products on the Website are subject to availability and payment being received before your order is processed.
b) We will contact you if the Products you have ordered are out of stock, or if additional identification is needed for credit card verification.

3. Shipping, Insurance and Tracking Number

a) We ship our products to most international destinations (except regions where an embargo has been placed).
b) When you place your order, you will get an approximate delivery time based on the availability of your items and order processing time. Depending on the order quantity and your region, shipping charges, suitable couriers and delivery date estimates will appear on the order page.
c) Please note that the delivery dates stated on your order page are approximate and for guidance purposes only. Actual delivery dates may vary.
d) Once your order is shipped, we will send you a tracking number through email. Please note that it may take up to 48 hours before the tracking number can be updated online.

4. Order Processing

a) We aim to deliver all orders within

 

7 – 28 working days of your order being processed.
b) Please note that all orders are processed as soon as they are received and consequently, we are unable to make any changes to the order such as change of address, quantity, type or other aspects of the order.

5. International shipping policies

a) If you order products from our Website for delivery to an international destination, your order may be subject to import duties and taxes once a shipment reaches your country.
b) You will be responsible for payment of any such import duties and taxes; We have no control over these charges and cannot predict what they may be. International orders may be subject to customs clearance procedures, which may cause delays beyond original delivery estimates.
c) When ordering from us, you are considered the "importer of record" and must comply with all laws and regulations of the country in which you are receiving the goods. We will not be liable or responsible if you break any such law.

6. Inspection

a) You are required to inspect the delivered Products once you receive you order and ensure that the Products are in "as expected" condition.
b) In the event they are not in an "as expected" condition, please

 

Contact Us as soon as possible, with all necessary information, including photographic proof.

7. Returns and Exchanges

7.1 Returns

a) We accept returns on most Products within

 

30 days of receipt, for Products that HAVE NOT BEEN OPENED, USED or ALTERED, and with ALL tags and/or stickers attached AND accompanied with original Sale Receipts.
b) Please note that we do not accept returns on any special orders and/or promotional/final sale Products.

7.2 Exchanges

a) All exchange notices must be received to our office within

 

14 days

 

of receiving your order. We will do our best to fulfil your exchange request.
b) If your desired replacement item is no longer available, we will help you find another item you like or process a store credit refund if the item falls within our return policy.

7.3 Returns Procedure

a) Please

 

Contact Us so we may provide you with a Return Address.
b) You must take reasonable care of the Product(s) you wish to return/exchange, and they should be returned unopened, unused and in their original condition from the original delivery address. We recommend that you ask the shipping carrier for proof of posting and ensure the return shipment, as you are under a duty to take reasonable care of the goods and will be liable for damage to them until we receive them at our warehouse.
c) All returns must be received by our office within

 

30 days of receiving your order. Please choose your shipping method accordingly. You are responsible for all costs incurred in returning the item to us.
d) For Returns, we will be able to process your refund in the form of store credit within

 

14 days of us receiving the returned Product. Please note that original shipping charges are non-refundable.
e) For Exchanges, we will ship to you the desired Product,within

 

14 days of us receiving the returned Product, as per our Shipping policy.

8. Shipping Errors / Damaged Products

a) We are committed to selling only high-quality Products. To that end, we employ several quality checks before a Product is shipped.
b) If you have received a wrong or damaged Product, please

 

Contact Us within

 

14 days of receiving the order to be eligible for a free exchange with a new, similar Product.
c) We will ship to you the desired Product,within

 

14 days of us receiving the returned Product, as per our Shipping policy.

9. Events outside our control

We will not be liable or responsible for any failure to perform, or delay in performance of, any of our obligations if caused by events outside our reasonable control, including (but not restricted to) fire, flood, severe weather, explosion, war, act of terrorism, industrial dispute, or acts of local or central Government or other competent authorities.

10. Entire agreement

These terms and conditions and other notices elsewhere on our Website contain the whole agreement between us and you relating to the supply of Products.

11. Contact Us

If you have any questions concerning our Shipping, Returns and Exchanges Policy, please feel free to Contact Us.
Return & Refund Policy

RETURN, REFUNDS & SHIPPING POLICY

RETURNS AND REFUNDS.

All Transactions and purchases made on the site is final and IHRTRADE offers no return and exchange unless it can be clearly shown that the product shipped is defected.

Damaged in shipment

If you receive your product and it has been damaged during shipment, please email us at support@ihrtrade.tw within 10-15 business days of receiving the shipment. Include a description of the damages and include pictures if possible. This information is extremely helpful to us in making sure that our products are packaged and shipped properly. We will arrange for the damaged products to be replaced.

Important conditions for return

Please note that you can only return a product if it is defective. The product returned shall be inspected on its receipt. Please ensure that the following conditions are fulfilled before returning the product:

The product shall be in unused and original condition;
You shall inform about the return of the product to us within a period of 10-15 business days;
You shall not accept any open box deliveries;
The return package shall include everything that arrived with the package when you made the purchase, including price tags, labels, original packing, freebies & accessories, invoices/warrantee cards and other documentation.

Refunds

Once your return is received and inspected, we will send you an email to notify you that we have received your returned item. We will also notify you of the approval or rejection of your refund. If you are approved, then your refund will be processed, and a credit will automatically be applied to your credit card or original method of payment, within a certain amount of days.

Exchanges

We only exchange products only when it is defective. You can find more details about exchanges on our product warranty sessions in our terms and conditions.

SHIPPING

Delivery time of 10 to 15 working days, to the address of the User / Customer since the tracking number is received. Please note that we would not be liable for any delay in delivery and more so for the inconveniences occasioned by COVID – 19.

The messaging service is carried out with tracking control. We have the express right to use any Courier service as we deem fit.

Please note that shipping fees would be calculated together with your order price upon checkout.

PLACE OF DELIVERY, DEADLINES AND LOSSES

Approximate delivery times are indicated in working days in the description of each product, although a delay in delivery will not be a reason for penalty.

IHRTRADE will not be liable for errors caused in delivery when the delivery address entered by the User / Customer in the order form does not match the reality or has been missed.

Depending on the destination of the order various shipping methods can be used, each method and each destination have shipping times that are specified in the order confirmation process.

Deadlines may change for logistical reasons or for reasons of force majeure. In cases of delays in deliveries, IHRTRADE will inform its User/Customer, as soon as it has knowledge of them.

Each delivery is considered made from the moment the company makes the product available to the User / Customer, which is materialized through the control system used by the transport company.

Delays in delivery shall not be considered those cases in which the order has been made available to the User/Customer, by the transport company within the agreed time and could not be delivered for cause attributable to the User/Customer.

When the order leaves our warehouse, you will be sent an email notifying you that your order has been accepted and is being sent.

DELIVERY DATA, DELIVERIES NOT MADE AND LOSS OF THE PRODUCT.

If the User/Customer is absent at the time of delivery, the carrier will leave a note indicating how to proceed to arrange a new delivery.

We would contact you and embark on a series of follow-up actions aimed at ensuring that delivery occurs.

If after 7 working days after the departure to delivery of the order has not been arranged delivery, the User / Customer should contact the administrator of the website.

In the event that the User/Customer does not do so, after 10 working days from the departure to delivery of the order, it will be returned and the User/Customer must bear the cost of shipping and return to origin of the order, as well as any associated management costs.

If the reason for not being able to make the delivery is the loss of the order, the transport will initiate an investigation. In these cases, the response times range from one to three weeks.
Great purchase.
I bought this as a gift for my daughter after buying the iPhone version and still haven't had issues after a few months now. I travel a lot and haven't had connection issues anywhere as long as the cord reaches an outlet.
Stylish and functional
I like the style and have used it countless times during emergencies that I don't have a charging cable
Great product
Very helpful. Looks nice. Nice material. Completely fashionable. Wearing it, it just looks like a bracelet, then you take it off, and it's a charger. Pretty strong too. Doesn't break easy. Fits nice. Overall it's really good.
Hard to forget a charger now
I love this. I'm usually the one to forget a charging cord for my phone. This is perfect. Hard to forget what I'm already wearing.
Excellent product
I love this bracelet. Not only does it look good on but its completely functional as a phone charger. No more digging around in my purse looking for one. I bought the "Medium 7.5" size and it fits perfect, I am going to order a larger size for my husband.